CIAP interpreters in Manila as Philippines hosts APEC
As Heads of State and leaders of 21 countries gathered for the APEC summit last week, CIAP's interpreters braved tight security in Manila, Philippines to provide simultaneous interpretation between English and Japanese, Korean, Mandarin and Russian for the APEC CEO Summit.
The event was opened by President Benigno Aquino III of the Philippines and addressed by heads of state and the chief executives of some of the world's largest global corporations. Having organised teams of conference interpreters for numerous APEC events over the years (see our track record here), past experience taught us that 3 interpreters per language would be required.
2 interpreters per language is a minimum (find out why here).
But when facing a tightly packed agenda and dense, rapidly-delivered content from high-level speakers, it often takes a team of 3 interpreters rotating regularly to interpret consistently and at the highest level. This ensures content is fully transmitted to the audience in their native languages, especially when interpreters are working both ways, from and into English.  
Moreover, hiring 3 interpreters per language is good contingency planning (read this to find out why this is so important), an advantage that proved its worth this week in Manila. Responding to the November 13th terror attacks in Paris, the Philippines government ramped up security measures and ordered the cancellation or rescheduling of most commercial flights.
Although interpreters had to scramble to rearrange their flights to Manila and travel at highly anti-social hours, planning 3 interpreters per booth minimized the risk that some languages would be without the minimum 2 interpreters to provide simultaneous interpretation.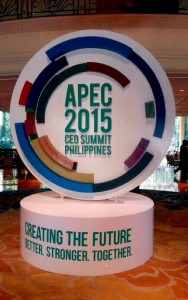 With three CIAP consultant interpreters on site in Manila, and a fourth working from Singapore to coordinate and assist with last-minute travel to the Philippines, all unforeseen challenges were overcome and a full team delivered seamless interpretation at this 5-language international conference.
One of the many roles of a Consultant Interpreter is to advise clients on the number of interpreters required. Because we also interpret ourselves, by considering the meeting topic, draft agenda and languages involved, we can quickly assess the workload and recommend the appropriate team size for your event.
Click here to find a CIAP Consultant Interpreter closest to your venue.