Like most professions, conference interpretation has its own terminology and some of the words or expressions are little known outside the profession. Here are some useful definitions:
Simultaneous Interpretation
Takes place at the same time a participant is speaking. Interpreters sit in soundproof language booths and interpret the speaker into their own language as he/she speaks. This requires special skills and training, and allows the meeting to proceed without interruptions. Most conferences use this method of interpretation. Simultaneous interpreting can be provided in many contexts: international conferences and conventions, meetings, seminars, workshop, symposiums, lectures, talks, press conferences etc. and for the broadcasting media. Read more
Consecutive Interpretation
The interpreter takes notes and translates what is being said a few sentences at a time. No booth or interpreting equipment is required. Used in smaller meetings with only two languages, such as ministerial visits or confidential negotiations, for formal occasions such as dinners, or when it is not possible to install technical equipment. CIAP Consultant Interpreters can advise you on this. Read more
Did you know? During the days of the League of Nations, all speeches were interpreted consecutively and some interpreters were such excellent masters of their skill that they could take notes for 30 minutes then render the same and equally eloquent speech in another language!
Whispered Interpretation
When only one or two delegates require assistance, the interpreter sits next to them and whispers simultaneously into the required language. When one of these participants speaks, the interpreter then provides a consecutive interpretation into the majority language. This technique is only appropriate for short meetings involving a very small number of languages. Read more.
Translation
Translation is the written transposition of a text from one language into another, as opposed to interpretation which is oral. Interpretation is frequently called 'translation' but is actually a different activity. This is why professionals refer to themselves as simultaneous interpreters and not simultaneous translators. Read more
AIIC
The International Association of Conference Interpreters, known by its French acronym (Association internationale des interprètes de conférence). With over 3000 members in 100 different countries, AIIC is the only professional association of interpreters recognised by the United Nations and many other international organisations. All CIAP associates are members of AIIC. Read more
SI Equipment
Equipment needed for simultaneous interpretation. CIAP can advise on reliable SI equipment providers and vendors in Asia-Pacific. Read more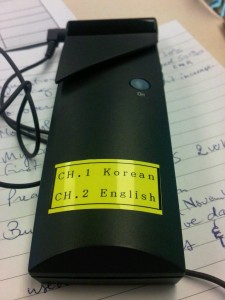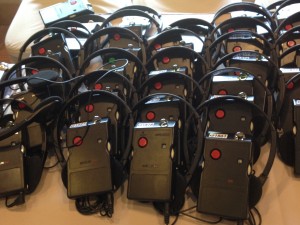 Booth
A small soundproof room looking onto the meeting room, or a cubicle with large windows set up inside the meeting room. Interpreters working into different languages sit in different booths.
ISO Standards
The ISO standards 2603 and 4048 covering fixed booths and mobile booths. They are complemented by the IEC standards for SI equipment. Read more
Relay
Interpretation from an interpretation: for instance, when Japanese is interpreted into English (the relay language), and then from English into Spanish. Relay should be used sparingly and only when unavoidable. If English is the main language at your conference, you should make sure it will also be the main relay language.
Language Classification
The classification of an interpreter's working languages into 'A', 'B' and 'C' as defined by AIIC.
Copyright
Conference interpretation is protected by international copyright law, in the same way as artists' performances. When the interpretation is to be recorded and used for commercial purposes (broadcasting or sale), the event organiser negotiates a copyright contract with the interpreters concerned. Your Consultant Interpreter can help with this.